Commercial HVAC Services in Minneapolis, MN
Give us a call today: 612-724-1899
Although our company name, Residential Heating and Air Conditioning, has the word residential in it, we also provide excellent light commercial HVAC service to Minneapolis, MN. We bring the same dedication to customer service and exceptional quality work to all our commercial jobs—customer satisfaction is always our top priority!
NATE-certified technicians
An A+ rating with the Better Business Bureau
Carrier Factory Authorized Dealer
No matter if you're looking for a new rooftop unit installation, repairs for a malfunctioning heating system, or server room cooling solutions, you can put your full trust in our team. We have more than 30 years of experience serving the Twin Cities Metro Area, and we know how to treat local businesses right.
Call us for commercial HVAC service and you'll feel the difference!
Proper Commercial Heating for the Minnesota Winters
What is the principal comfort need for your business during the year? It's almost certainly heating. When our cold weather plunges below zero, only a powerful central heating system can keep a business operating. Otherwise, the temperature would bring work to a halt, scare away customers, and cause equipment failure.
We can eliminate your worries with our light commercial heating services. Looking to replace your old system? Expand on your modular rooftop units? Have a faulty heater repaired? Schedule routine maintenance? We can take care of all these jobs and many more for your light commercial heating.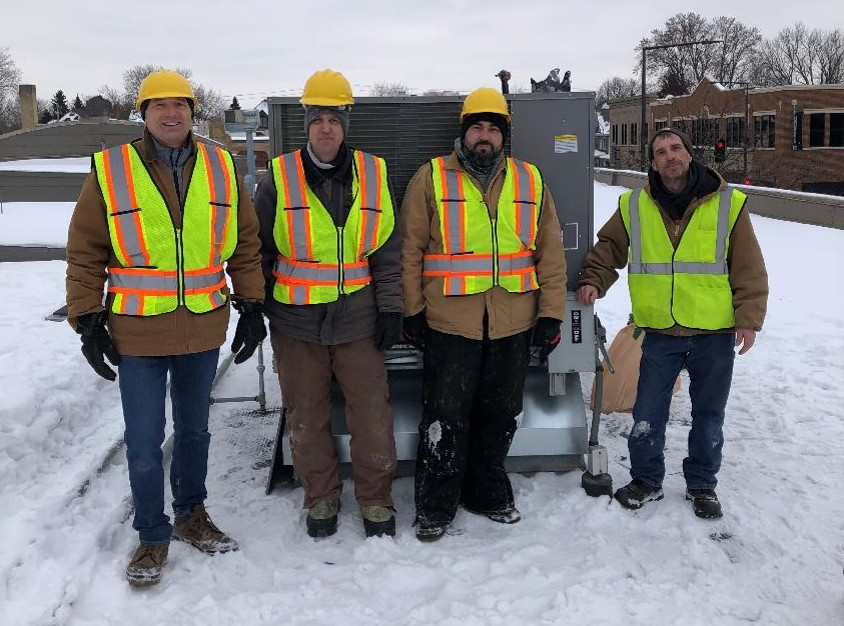 Commercial HVAC Systems for Cool Summers
Hot and humid days in Minneapolis can make summer a struggle—but not when your commercial building has an excellent air conditioning system in place. We install rooftop units and other types of cooling systems for businesses, and we even offer server room and computer room cooling. Schedule your light commercial AC installations, repairs, and maintenance with our specialists today. You'll find out why we have such a record of excellence and an A+ rating with the Better Business Bureau.
We Also Handle Commercial Indoor Air Quality
Your commercial building may have indoor air quality that's three to four times worse than the air quality outside. This is because the strong insulation on the building restricts proper fresh airflow. Improving air quality to protect the comfort and health of your space, as well as protect important equipment, is as easy as calling our light commercial HVAC professionals. We install air purifiers, filters, dehumidifiers, humidifiers, and more. Comfort is about much more than your rooftop units, and we're here to see that your business has the IAQ it deserves.
Commercial HVAC Systems Services in Minneapolis, MN
We put as much effort into our light commercial heating and cooling services as we do for our residential services. That's why Residential Heating and Air Conditioning accepts personal and company responsibility for your 100% satisfaction with the material and work we provide and you pay for. We believe in happy technicians and happy customers. Speak to one of our team members today in Minneapolis, MN and find out what we can do to meet your light commercial HVAC needs.
Call us for service and you'll feel the difference!