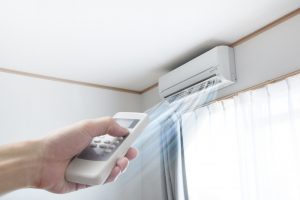 Are you thinking of upgrading your air conditioning system? Sometimes your air conditioning system can fall a little flat in summer. If you're struggling with the capacity of your air conditioning system or if you're having a little difficulty staying cool then it's time for you to schedule an appointment with our team.
Upgrading is a pretty labor-intensive process. It takes a lot of time, labor, and money to put a new air conditioning system in your home. You don't want to waste your efforts on an ill-fitting air conditioning system. We'll walk you through your AC options and make sure that you choose the best system for your needs. Contact our team for your HVAC services in Maple Grove, MN.
What are the Benefits?
There are so many benefits to a ductless mini split system. Here are some of the top reasons why you should make the switch to this system:
Versatility: Have you ever bickered over the setting of your thermostat with a family member? Central air conditioning system are great, but the real downside of this system is that you have to cool off your entire home just to get comfortable in one room. This is not only inconvenient, it's also grossly energy inefficient. If you want an air conditioning system that can provide you with customized comfort, you might want to try a ductless mini split system. Ductless mini splits are versatile because they both heat and cool from one unit and adaptable because they use individual, autonomous air handlers. They'll pump cool air directly into the places you need them the most.
Increased Comfort: We touched on this above, but installing a ductless air conditioner will give you full control over your home comfort. You can place the units where you need them the most and you can choose how many units you want. If you're always hot in your bedroom and living room you can place air handlers in these spaces. Ductless mini split systems work around your home's needs rather than forcing you to work around the capability of your air conditioner. Don't choose one-size-fits-all home comfort, choose the comfort that works for you.
Cost Savings: If you've lived here even for just one summer in Maple Grove, you know that it can be really expensive to cool your home throughout these months. Don't skip out on a tropical vacation this summer because you're allocating all your money to your air conditioning system. A ductless air conditioning system is a great option if you'd like to save money because they use less energy. If you're just getting by with fans or struggling with window units then upgrading to a ductless air conditioning system is the best option for you. In fact, a ductless system matches the efficiency levels of a standard central heat pump. You can save as much as 20 to 30% per month on your air conditioning bills when you switch to one of these systems.
Contact Residential Heating and Air Conditioning today to schedule an appointment for our HVAC services.