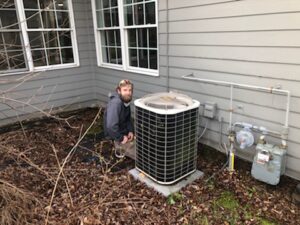 Your central air conditioning system is important during an Eden Prairie summer. You never realize this faster than when your air conditioner starts to act up a little. Your central air conditioning system is easily disrupted if one aspect of it runs into problems. This is because it's really a network. There are so many different parts that could contribute to the problem. If you're having issues, you can try…
Checking for a Dirty Filter
Checking Your Thermostat Settings
Checking Your Circuit Breaker
Checking Your Outdoor Unit
Checking Your Air Vents
You should make sure that each aspect of your system is in alignment. If you run through all of these pointers and still discover that you're having troubles, then you can contact us for AC repair in Eden Prairie, CO.
Try These Tips
Make sure that you check all of these parts of your air conditioner before contacting one of our professionals. You might find yourself a solution or even narrow down the problem if you don't:
Check for a Dirty Filter
Are you having these issues?
Trouble getting airflow to your vents
Ice on your refrigerant lines
Water leaking from your air conditioning lines
Inadequate cooling
These are all signs that you might have a dirty filter in your home.
Here's how you can check your filter. Go over to where your filter is located, pop out the filter itself, and give it a good look. It should be white, clean, and pristine. If it's grey or brown, dingy, dirty, and covered in lint, then you need to replace the filter. You should replace your filter at least once a season. It's important to keep your system in top shape.
Check Your Thermostat Settings
Sometimes we think that we turn on our air conditioner at the start of the summer season, but we actually have our HVAC system still left in heating mode. This happens to the best of us. This is why it's important to double-check your system before you call out a professional. This will make sure that you have the best service possible.
Check Your Circuit Breaker
Do you feel like you're having trouble getting your air conditioner to turn on? This might be a problem that's deeper than the air conditioner itself. It could actually be electrical. Run out to your circuit breaker and make sure that all the switches are in the "on" position.
Check Your Outdoor Unit
Are you experiencing:
High energy bills
Frequent repair problems
Warm air
All these problems can be attributed to problems with your outdoor unit. If it's covered in dirt or littered with branches and debris, then it's going to struggle to perform.
Check Your Air Vents
Problems like:
Your air conditioner struggling to perform
Water leaks
Higher air conditioning bills
Ice on your refrigerant lines
You're going to need to check your home's vents. All your vents should be clean and clear. Just take a walk through your home and inspect each vent. Make sure that nothing is blocking or obstructing it.
Contact Residential Heating and Air Conditioning for your central air conditioning services.