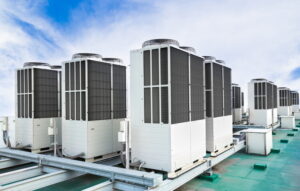 As you can probably guess, a commercial HVAC system needs more service than a residential system, given how large and complex a piece of equipment it is. What you may not know is that a commercial HVAC system needs maintenance just as often–once a year for a commercial cooling system and once a year for a commercial heater. Of course, this means that if your commercial space or business uses a heat pump system, you'll need to invest in maintenance twice a year.
But what else should you know? Well, just how important it is that your system be maintained and otherwise serviced by folks who have expertise in commercial HVAC work, like the folks here at Residential Heating and Air. Maintenance helps your commercial system work as efficiently and effectively as possible for as long as possible, while professional services keep it operating well day in and day out. Read on to learn why it's so important to hire an experienced contractor for any commercial HVAC work you need done.
We Understand Your Systems
Commercial HVAC systems are more than larger, more elaborate versions of residential systems. Commercial properties often need more precise temperature control, and in the case of multiple businesses housed in the same space, those needs may vary across the building. Rooftop units are common and issues with them need to be addressed differently than in indoor spaces.
A good commercial HVAC contractor will have experience treating your specific system: eliminating guesswork and ensuring that any repair or replacement services take place efficiently. Look for services with affiliations with leading brands, indicating that the manufacturer has full confidence in their ability to correct any problems with their systems the right way.
Prompt Service
In a residence, you could potentially sit tight for a day or so until a repair professional can treat a malfunctioning heater or air conditioner. That's simply not the case in a commercial environment. A loss of heating or cooling power for even a few hours can be disastrous. Customers will stay away, employees will need to be sent home or work in unpleasant conditions, and in many cases, important pieces of equipment like computers can be damaged. All of that comes on top of more serious concerns, such as businesses that need precise temperature control to keep products safe.
A good commercial contractor needs to respond swiftly when that occurs: getting your system up to speed quickly and keeping your business running promptly. Look for companies that offer same-day service and guarantee that the work will be done to your satisfaction without skimping on speed.
When you have a commercial HVAC need, whether it's maintenance or repair, you need fast service. This is because, as we alluded to above, it's going to be the difference between a comfortable commercial space and a potentially damaging business interruption.
From commercial HVAC maintenance to server room cooling in Minneapolis, MN, we have everything you need for reliable commercial services.
Schedule an appointment with the staff at Residential Heating and Air today!