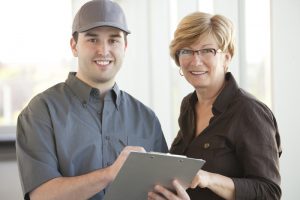 If you've read our blog for even just a season, then you probably have seen us talk about maintenance, also called tune-ups, before. Regular, preventive maintenance is vital for your heating and cooling systems in the fall and the spring, respectively. These are the ideal times for HVAC maintenance because it's right before you need your systems the most.
However, this is also where we should add a caveat—consistency matters more than timing when it comes to HVAC maintenance. Your central furnace and air conditioning systems should be professionally tuned up once a year each. Or, if you have a heat pump that you use year-round, it should receive professional maintenance twice a year! It's simple to stay on top of this important service when you enroll in a maintenance plan such as ours. Read on to learn more.
Maintenance Keeps Your Home Comfort Systems Reliable
One of the primary advantages of enrolling in an HVAC maintenance program is that you'll be able to rely on your climate control systems consistently. Routine, preventive maintenance helps both your heating system and your cooling system in many ways, and this is one of them.
The last thing you need in the winter is a heating system that fails on you when you need it the most. And although our summers aren't as brutal as our friends and family experience down south, they're still not at all comfortable without a fully functioning air conditioner.
HVAC maintenance enables our team to clean, inspect, and adjust the components that need it within these systems, and this allows us to spot signs of wear and tear and address them before they grow into a much bigger and more expensive problem.
Maintenance Prolongs the Lifespan of Your Systems
An HVAC system that fails years before its estimated useful service life means you could be paying for a pretty costly replacement system when you weren't expecting to factor that into your budget. For the best return on investment possible, it's vital that you have maintenance done.
With regular, professional maintenance, your heating or air conditioning system can be expected to last about 10–15 years, but without this service that useful service life could be cut in half!
Maintenance Helps You Save Money
Sometimes, a homeowner might put off having maintenance done because they believe it's "just another expense they don't want." But here's the thing: regular system maintenance can actually help you save money.
Over the years, both your air conditioning and heating systems accumulate natural wear and tear. While this is expected, it also contributes to a drop in system efficiency. With maintenance, your air conditioner can retain up to 95% of its original efficiency rating, while without maintenance it can lose about 5% of that efficiency rating each year.
Additionally, professional maintenance helps you avoid up to 85% of the repair needs your system might need in its lifespan, saving you even more.
Whether you want to learn more or are ready to enroll in our maintenance plan in Minneapolis, MN, contact Residential Heating and Air Conditioning!