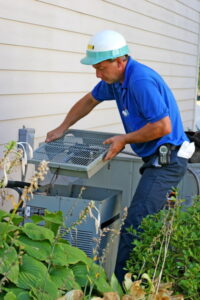 In our last post, we talked about the most important way you can prepare your air conditioning before summer: professional air conditioning maintenance.
Although maintenance is essential for an effective and efficient cooling system, you may have to face a larger issue this spring—what if it's better to replace your entire air conditioning system before the hot weather arrives? No air conditioning system lasts forever, and at some point, you'll need to make the choice to get a new AC installed, preferably before the AC breaks down on its own and forces you to replace it. You always want to make an upgrade to your cooling system on your schedule, not the ACs!
As experienced professionals when it comes to air conditioning in Minneapolis and St. Paul, we can help you out. Let's look at several factors that may convince you it's time for a new AC. The best way to get a solid answer is to consult with our technicians. We'll give you honest answers about the future of your home cooling.
Start with the AC's age.
Although age for an air conditioner isn't the final word on when to replace it—because many other factors can lead to an air conditioner wearing down faster—it is a good starting place. The average service life for a central air conditioning system is between 10 and 15 years, with regular maintenance helping a system to get closer to 15. However, we recommend giving serious consideration to replacing an AC that's at 15 years or more, even if it's working fine. The point of decline will come up fast.
Analyze your previous summer cooling costs.
A well-maintained air conditioner will retain most of its energy efficiency until the last 1–2 years of its life. At that point, wear and tear will cause efficiency to drop and electrical costs to rise subsequently. If you look over the last several years of your summer electrical bills and you see a steady increase that you can't account for, this is often a warning that the AC is on its way out. Don't pay those higher bills: start over with a new, higher-efficiency air conditioner. 
Pay attention to repair costs and frequency.
Most ACs will need repair at least once during their lifespan. That's normal. An AC that needs annual or biannual maintenance isn't normal, and it can mean sinking too much money into a system that's better off being replaced.
Single repairs can also be too costly to justify, especially if the air conditioner is more than 10 years old and out-of-warranty. We don't recommend paying for any repair that's more than 50% of the price of a replacement, or any repair where the repair cost multiplied by the age of the system is more than 5,000. (A.k.a. "Rule of 5,000.")
Uneven cooling
Think back to last summer. Did the AC leave hot spots around the house? This sign of uneven cooling often indicates that the air conditioner is losing its cooling capacity. For an AC older than 10 years, this is one of the best warnings that the system needs a replacement.
Residential Heating and Air Conditioning has served the Twin Cities since 1991. Call us today to schedule an AC replacement or consultation.