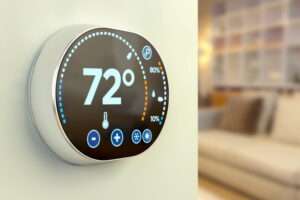 When air conditioning season rolls around, you start thinking about your efficiency. We all want to save ourselves a little time and money after all. One tip that you'll hear from virtually any professional, friend, or neighbor you speak to is "turn your thermostat down to x degrees!" 72 degrees is one of the fan favorites. This begs the question—Is 72 degrees a good temperature for my home's air conditioning?
We're a reliable Eden Prairie air conditioning company. We want you to have the right air conditioning service and we understand that a lot of this can start with simply having answers to your questions. We're here to help you figure out the optimal temperature for your home today.
What's a Good Thermostat Temperature?
Let's talk about the elephant in the room—72 degrees.
The fact of the matter is that most air conditioners aren't meant to run below the 72-degree mark. Finding the right indoor temperature actually depends on the outdoor temperature. Your air conditioner isn't meant to cool at more than 20 degrees lower than the outdoor temperature. So that means that if it's 85 degrees outside, your home's thermostat shouldn't dip below more than 65 degrees at its most extreme.
Generally speaking, your home's thermostat shouldn't dip below 72 degrees in the summer. It's not meant to run this way. It's going to put a lot of pressure on your air conditioner and raises the risk of you freezing over your air conditioner's evaporator coil.
We'd actually suggest keeping your home's thermostat in between 72 degrees and 76 degrees to make things as simple and straightforward as possible for your home. It's a reasonable temperature that will keep you cool without overworking your AC.
Your Next Steps
If you've read through everything above and realized that your thermostat is causing you real issues, it might be time to upgrade.
We know that it's hard to make this call on your own. This is when our team members step in to help you determine your thermostat needs. Residential Heating and Air Conditioning is a factory-authorized Carrier dealer. This means we work with high-quality brands to get you the highest quality products. Have you heard of the Infinity System Control Thermostat? It's a top-of-the-line thermostat that prioritizes your ease of use and precision. If you're looking to save money and improve your comfort, then we suggest this model. You can speak to one of our professionals directly about thermostats.
"What If It's Not My Thermostat?"
Sometimes the issue isn't your thermostat. We always suggest that homeowners look to their indoor air quality before they look to anything else concerning efficiency. Poor indoor air quality has a way of dragging down your home. This is why we suggest units like the Infinity Air Purifier. This air purifier is a Carrier product. It's a whole-home unit that captures and inactivates nearly 99% of airborne pathogens to keep your home clean, safe, and efficient.
Contact Residential Heating and Air Conditioning for your AC services. We're prepared to help you this spring.