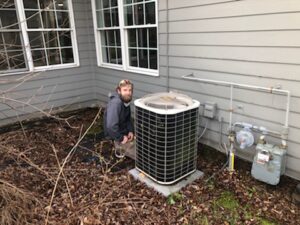 The temperatures only continue to rise here. As the weather gets warmer, you might want to ask yourself what you're doing to help your air conditioning system that seems to be underperforming. We don't want you to ignore an issue like this. It's something that's going to worsen as time goes on.
Our team specializes in fast AC repair in Eden Prairie, MN. We understand that you want quality care that's able to get your air conditioner back in shape quickly. We're able to do this and we're not going to sacrifice the quality of your home's air conditioning services either. Now, let's talk about what might be happening in your home to cause this.
1.      The Air Conditioning System Doesn't Fit Your Home
The problem that you're experiencing might have started from day one. This is a lot more common than you might think. Sometimes, you might get an air conditioning system that's oversized or undersized.
If the air conditioning that you have at home is oversized, then you might notice your home short cycling. This happens because so much cool air is blown into your home all at once. It throws off the rhythm of the process and causes things to start short cycling.
If you have the opposite problem and you're just struggling with an undersized air conditioner, you'll notice an underperforming air conditioning system for sure. It won't ever be able to cool off your home the way you need it to.
2.      The Air Conditioning System Refrigerant isn't Properly Charged
If your air conditioning refrigerant isn't properly charged, you'll notice a lack of power coming through your air conditioning system. If this is the case, then you're experiencing a refrigerant leak. This isn't something that you can "recharge" or "top off." It's something that needs in depth repair service and even potential replacement. We'll help you figure it out.
3.      Your Air Filter is Dirty or Clogged
You should change your air filter once every few months. If you haven't been abiding by this for the past few months or so, then it's common for your air filter to clog up or get dirty. When this happens, it will reduce the airflow throughout your home and cause your AC system to function poorly.
4.      You have some Bent Condenser Fins On the Exterior Unit
It's possible for the condenser fans to bend over time. This can happen when things make their way into your outdoor unit. There might be things like branches, twigs, pebbles, rocks, or any other common outside debris from your yard. This is why it's a great idea to check your outdoor unit and clear it up of any debris that you can see.
5.      The Fan Speed Is Not Optimized
Your fan speed should run at a consistent speed that's optimized for your system. This is something that we can take care of during a maintenance appointment. Make sure that our professionals visit you once annually because of this.
6.      You Have an Old Blower Fan
Parts of your air conditioning system are going to wear down eventually. You might notice damage from your air conditioner's blower fan by the sound that your air conditioner is making. You might hear banging or clunking sounds. You don't want to hear any noises coming from your air conditioning system. If you do, then you should schedule an appointment with our team members. An old blower fan will create further problems for your AC system as the summer marches on.
7.      Your Home's Airflow System is Underperforming
By "underperforming" we mean low airflow, warm air, and other operational issues. We don't want you to ignore problems like this. A lot of people try to explain these issues away especially as we got into the hotter summer months. In reality, what you're experiencing isn't your air conditioner trying to perform under stressful conditions. Instead, you're experiencing low level performance and we're prepared to help you repair your system so that you can move past this.
8.      Your Home's Air Ducts are Leaking or Blocked
It's common for ducts to wear down over time. If you've noticed that your air conditioning services are bad now and you can't seem to get the right amount of airflow in your home, then you might have ducts that are leaking or blocked.
Leaks can naturally occur over time because your ducts go through a considerable amount of stress through winter and summer. Your ducts can also get blocked up over time due to dirt, dust, and other debris blocking up your airway. Our professionals can help you alleviate your home of all these problems.
9.      Your Thermostat Is Damaged
Have you noticed that your home's thermostat just seems to be completely off? If you notice that your thermostat is completely off when it comes to calculating your home's internal temperature, then it's time for you to schedule an appointment with us. Your thermostat is the command center for your home's HVAC system. If it's damaged or not working well, it's important for you to schedule an appointment with us.
10. You Have an Old / Outdated AC System
There comes a time when you need to replace your air conditioning system. If you've been putting your air conditioning replacement off for a while, it's common to see your air conditioner underperform.
Your air conditioner is only set to last around 10-15 years. Yes, your air conditioner might be able to work past this point, but the best question to ask yourself is, "will the air conditioner work well?" The answer to this is probably no. Don't think that your replacement service has to be extremely extensive or ridiculously expensive. We'll make this easy for you.
You can trust Residential Heating and Air Conditioning because we're a responsible HVAC company in Eden Prairie, MN. Get in touch today and "Feel the Difference."