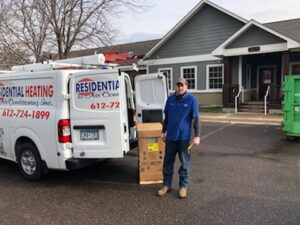 The real issue that we see surrounding HVAC emergencies when it comes to homeowners is that you might not realize when you have one. This is the problem that can tend to be the demise of an otherwise great HVAC system. You're going to run into problems from time to time and, when you do, you need to schedule an appointment urgently to handle them.
We're the team that prides ourselves on being there when you need either furnace or air conditioning repairs in Eden Prarie, MN. We provide HVAC services in Minneapolis, St. Paul and the greater twin cities metro. We'll help you determine what's going on below. 
Air Conditioning System Failure
If your air conditioner gives out on you, the first thing you want to do is contact a professional. We can be out to your home in no time to fix your air conditioner and get it running again. We understand the urgency that comes with this need. You're not going to notice your need urgent repair for your air conditioner in the middle of winter. This normally happens in the middle of summer. We'll help you with this.
No Heat
Winters in Eden Prarie are nothing to scoff at. If you realize that your heater isn't able to perform one day, then you need to schedule an appointment with us for urgent repairs. Your heater is a necessity pretty much anywhere, but especially in Minnesota. We take this into account and make sure to figure things out for you as soon as possible.
Safety Issues
You never want to see either of your HVAC systems blowing smoke, sputtering, or emitting sparks. If you do, then you're facing a safety issue. Keep your home in great condition by addressing this as soon as possible. 
Issues That Are Not an HVAC Emergency
Now we want to explore issues that aren't HVAC emergencies. Here are a few:
Air Filter Cleaning or Replacement

: You should replace or clean the filter in your home's HVAC system at least once every three months. This isn't something that's considered an HVAC emergency—it's routine. Cleaning a filter might be something that you want assistance with, but replacing it is something you can handle on your own. Call us and we'll walk you through it.

Installations

: Getting a brand new air conditioning or heating system installed is a big deal, but it's not an emergency. You can contact us to get a regular appointment scheduled on the books. Our professionals take our work seriously. We're sure to give you the quality service you're looking for.

System Failure Due to a Power Outage

: System failure is an emergency, but system failure due to a power outage is an unfortunate event. There's nothing our professionals can do if this is your circumstance because the power is out of our control.
Do You Need Emergency HVAC Services?
Now that we've run through what's considered an HVAC emergency and what isn't, we think it's safe to say that you can determine if you've got an emergency on your hands. If you do, then it's time for you to contact our professionals for the services that you need. We're here whether you need urgent service or if you'd like to schedule a non-emergency appointment down the road. 
Contact Residential Heating and Air Conditioning today to schedule an appointment with us and "Feel the Difference."