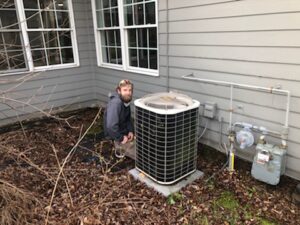 When you buy yourself an HVAC system in Minnesota, we're sure that you're expecting it to last a long time. Do you know how long it should last you though?
The answer to our titular question is your HVAC system should last you about 15-20 years. If you're reaching this age range with your air conditioner or you're just having lots of issues, it might be time to install a new AC system in Bloomington, MN. We make your upgrades as easy as possible. 
Maximizing Your System's Lifespan
How long a system is expected to last and how long you actually want your system to last are typically two different numbers entirely. If you're trying to make them align a little more, then we suggest implementing some of these practices in your daily life to improve your air conditioning services. 
Get Routine Mainetenance
It's important to get routine maintenance if you'd like your air conditioner to last you well into the future. This should start with great HVAC maintenance services from a team of professionals you can trust. 
Maintenance is so vital because it's a proper inspection of your HVAC system that allows you to get the proper care you're looking for. When you allow a professional into your space to pinpoint these problems, we can make sure that they're not going to pose a threat to your home in any possible way for the season ahead. 
If you want to maintain your air conditioner on a regular basis, then we suggest that you enroll in our maintenance program. We do the following during our tune-ups. 
Clean the burners

Clean and replaced sensors as needed

Clean out the condensate line

Check the limit and safety switches

Check the air filter (new filter not included)

Check the humidifier (new humidifier pad not included)

Clean the blower motor

Check the heat exchanger for damage

Clean the condenser

Clean and oil the condensate fan

Check refrigerant pressure (new refrigerant not included)
This is one of the best ways to improve your air conditioning services. 
Call For Repair When Necessary 
We know that it's tempting put off repairs. You might notice that something is going wrong with your air conditioning system, but you think that you can wait it out until the end of the summer. 
We don't suggest that you push your luck this way. What you're doing when you attempt to wait out an air conditioning problem is allowing these issues to get the best of your system. If you're hesitant to call a professional, contact our team. We're friendly, helpful, and fast.
Always Choose Professional Services
Make sure that you when do make the decision to contact someone for your air conditioning services, that you make it a professional. Yes, you can always rely on DIY efforts or amateur work, but it's not typically something that's going to give you the longevity you're looking for. We can help you get professional service for an affordable price.
Contact Residential Heating and Air Conditioning today to schedule an appointment with our professionals.