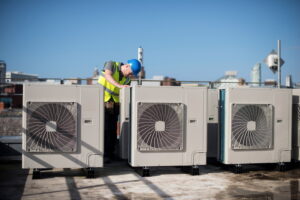 If you have a commercial space and you're trying to keep it in great shape, then the installation is the most important job to focus on. Commercial HVAC in Minneapolis, MN can feel like a daunting task to take on. We're going to help you with the best installation job possible and the tips to match. 
We understand the importance of commercial work. Bad commercial work is one of the worst things that can happen to your space. Efficiency is one of the most important aspects of any successful commercial business. We want to help you save money, get comfortable with ease, and keep your HVAC system performing well far into the future. 
Choosing the Best Commercial HVAC System
You can have the best commercial installation possible, but it won't matter if you don't have the right commercial equipment. This is why it's important to make the right choice. Picking the right equipment is all about knowing what your home needs. This is why it's important to have a load calculation performed by a professional. Professional technicians like ours will take into account the space in your home, the space of your home, the number of windows in your space, and more when figuring out the right HVAC system. Once we work with you and help you determine what you need, then we'll install the HVAC system itself. 
Choosing the Right Thermostat
If you're prepared to go through the effort of commercial HVAC installation, then it's important to choose the right thermostat. We suggest smart and Wi-Fi thermostats. 
Wi-Fi thermostats are great because they can be programmed from anywhere in the world. If you leave your building after a long day and forget to turn off your air conditioner, you can turn it off from your phone rather than having to turn around and travel back just to turn it off. 
Smart thermostats are great because they add the ability to "learn" about how you like to run your commercial space on top of the Wi-Fi capabilities. Smart thermostats are known to work for your home and save you hundreds of dollars a year. It's a great investment to accompany any new commercial HVAC system.
Tips for Maintaining Your Commercial HVAC System
Outside of choosing a great system and pairing it with the right thermostat, it's important to maintain the quality of your HVAC system with the right tips. Here are a few to try:
Regularly Maintain

: Make sure that you regularly maintain your home's commercial HVAC system. This is the best way to ensure that your HVAC systems are able to heat and cool your space properly for years to come.

Use Qualified Contractors

: You should only use professional HVAC contractors. Anything less is going to result in the possibility of poor performance. Great service keeps your space comfortable and saves you money.

Keep a Fresh Filter

: Your HVAC filter is always going to need a fresh air filter. If it doesn't have one at the start of each season, then it's likely that it's going to reduce the efficiency of your HVAC system.
Contact Residential Heating and Air Conditioning today to schedule an appointment with our professionals. Feel the Difference.