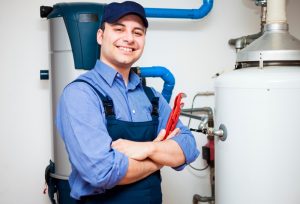 If you're on the hunt for an HVAC technician then it's more than likely that you're in a pinch. Not many people spending their free time perusing the internet for topics like this, this is normally only something you start to think about when your heating system malfunctions or your air conditioner starts making a concerning, grinding noise.
There are a few simple ways that you can find a great HVAC technician in your area. Don't get overwhelmed by the options you have, when you need great quality work, you can always come to our team. We have the best HVAC in Eden Prairie, MN and we work hard to maintain a high standard.  
Here's What to Look For
So here's what you should look for when you're trying to find a great HVAC technician in your area.
Make Sure They're Certified: You always want to go with a certified technician when it comes to your heating, air conditioning, or indoor air quality services. We ensure that all our technicians are NATE-certified. On top of this, we're also a Carrier Factory Authorized Dealer, a Daikin Comfort Pro dealer, and a A+ rating with the Better Business Bureau. We're completely backed up on all ends and we can help you find the best people in your area.
Get the Right Experience: Does the team you're going with have the right experience? This really makes a difference when it comes to quality service. Your technician could have all the right training and education, but without the right experience the service that they provide you with might fall a little flat. Here at Residential Heating and Air Conditioning, we've served the twin cities since 1991. With over 25 years in service, we know how to service your home.
You Want Reasonable Prices: This might be the time when you want to "phone a friend." Asking your neighbors who have had work done on their HVAC system or friends and family who they use for their home services is one of the best ways to find a reasonably priced HVAC technician. Here at our company, we understand that HVAC services aren't a luxury, they're a real necessity. We make sure that our prices reflect this too. When you need a great team on your side for these types of services, make sure that you call us.
Easily Accessible: Make sure that your team is local! You get the best service from teams in your immediate area that understand the distinctive needs of homeowners in your area. We service Eden Prairie and the surrounding area and customer satisfaction is our number one goal over all. You can call us for a free, no-obligation consultation and expect quick service from a reliable team.
Top-Tier Customer Service: Choose a team that's committed to top-tier customer service. Many HVAC companies in the area put their wallet before the quality of their service, you'll never have to worry about that with our team though. We understand the importance of respect, integrity, and honesty.
Call Residential Heating and Air Conditioning Inc. for superior service in Eden Prairie, MN. We let our work speak for us—Feel the Difference.