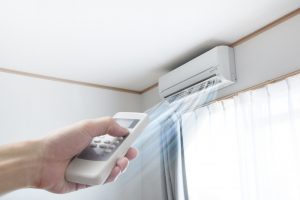 This is the time of year where many people start to reconsider their heating systems. If you're considering upgrading to a different unit, we want you to know that you're right on time and you're not alone. We want to discuss a great option for your upgrade today–a ductless mini split system. 
Ductless mini split systems are great and any HVAC contractor will tell you this. Do you know the reason why, though? We're going to get into this today. Not only this, we're going to get into many frequently asked questions surrounding these types of systems. We specialize in ductless installation in Minneapolis, MN. 
How do ductless systems work?
Ductless systems are heat pumps. This means that they use the same type of technology that these systems use. Ductless systems move heat where you want it. In winter, a ductless system draws the net heat from outdoors into your space. In summer, a ductless system moves the warm air out. 
One of the best features of a ductless system is its adaptability. Ductless mini splits use air handlers that can individually heat or cool each room they're installed in. The beauty of this is the freedom this offers. It's also great because you can choose to run them altogether to mimic the comfort of a central air conditioner or heater. 
How are ductless systems installed?
When a professional installs your ductless system, they're going to focus on two major parts–the outdoor unit and the air handlers. 
The outdoor unit is outdoors but close by. The beauty of a ductless system is that it only needs a small hole accessing your indoor space to attach all the relevant components and conduits. The air handlers are installed within your home. Most of the time, air handlers are mounted high up on the wall, but in some cases, they can be installed near the floor or on another part of your wall. It all depends on the layout and setup of your home. 
What are the benefits of a ductless system?
Are you wondering how a ductless system can benefit you? Here are a few ways:
Flexibility

: One of the best things about a ductless system is that it's flexible. We don't just mean the placement of your home's air handlers when we speak on flexibility either, we mean being able to add to your home's capacity if need be. You can add additional air handlers if you need more HVAC power. 

Better Comfort

: Since a ductless mini split's air handlers allow you to have adaptable comfort, you can count on feeling warmer during winter and cooling during summer. 

Heating and Cooling

: In our opinion, one of the best benefits of a ductless mini split is its ability to heat and cool from one unit. You don't have to worry about juggling two. You can just invest all your care into one system and know you're getting the service you need. 
Contact Residential Heating and Air Conditioning to schedule an appointment and "Feel the Difference." Serving The Twin Cities Since 1991.