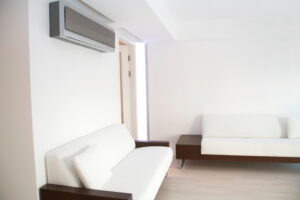 Now that the weather is warming up, we're sure that you're thinking about what you can do for your comfort this season. If you want your air conditioning system to perform well, it needs to be perfectly suited to the needs of your space. This is when you should expand your scope past the range of central air conditioners. You might want to consider a ductless system in Brooklyn Park, MN. 
When we talk about ductless systems, many people are surprised to hear how great they are for air conditioning. These systems are a great pick because they're both effective in mitigating heat while being adaptable. If you want to know more about these systems, then you've come to the right place. We've rounded up some of the best details to determine if a ductless system is right for you.
Do I Need a Permit for a Ductless System?
You don't, but we do. Any HVAC contractor that's going to install a ductless mini split needs the right permit and licensure to install one of these systems. This is because ductless mini splits are complex systems that require a lot of wiring, piping, and proper placement to ensure that they can run properly. 
The required licensure depends on the area. This is typically something that differs from state to state. Our team has the right licensure to ensure that your ductless system is ready to run. Come to us when you want one of these systems installed.
Does a Ductless System Also Help with Heating?
A ductless heating system does help with your home's heating. This is because ductless systems are able to both heat and cool. A ductless heating system is great because it's a heat pump. This is great because of the eco-friendly nature of these systems. Ductless systems move heat where you want it rather than generating a comfortable temperature the way that a central air conditioner or furnace would. 
A ductless heating system also has a reversing value just as traditional heat pumps do. This is the valve that ensures that your system can both heat and cool the way you want it to. If you have rooms within your home that run a little cooler than the rest, adding an air handler can be the answer to your heating needs. 
Does a Ductless System Save Money?
Yes, ductless systems can save you money. This is because these systems are modular. If you have certain rooms in your home that need a little extra HVAC power, then a ductless system can be the addition that makes all the difference. 
The cost savings come in because you can heat or cool rooms individually. Gone are the days of blasting heat or cool throughout your entire home just to get cool in the bedroom. A ductless system allows you to take the power back into your home. When you condition room on their own, you use a lot less energy and save yourself money as a result. 
"Feel the Difference" with Residential Heating and Air Conditioning. You can always rely on us. Serving The Twin Cities Since 1991.