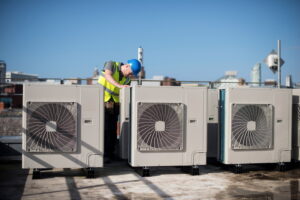 If you're new to the world of commercial HVAC, then it might feel a little intimidating. It's big step up from being in charge of the personal comfort of you and your family to being in charge of the personal comfort of an entire building's worth of people. This doesn't even mention what type of building it is. The stress might be high if you're in charge of cooling a school, office building, or storefront. 
Luckily, we have local professionals on our team who know their stuff. We're also local business owners here as well. We understand the ins and outs of the industry and what you need to have a successful foundation for any commercial space in our area. Come to us for everything concerning your commercial air conditioning in Minneapolis, MN. 
Commercial vs residents 
We like to be specific, so we'll start with a definition of exactly what we're talking about. Commercial air conditioning refers to the air conditioning in a commercial space. This is air conditioning often done for spaces like office buildings, retail, or school sites. The air conditioning here is done on an industrial level. It's why units like rooftop HVAC units are often the choice. These units can meet high demand. They're also efficient when it concerns space. They can go on top of the roof of your commercial space so they're out of sight and out of mind. This is also great should you need repairs–these can be done during business hours without disrupting anyone inside your space.
Residential air conditioning refers to the type of air conditioning you might be a little more familiar with. This is air conditioning done for homes. We're a local HVAC contractor that works with a wide variety of homeowners so we install a variety of systems as well. This includes central air conditioners and ductless systems. 
How Long Does a Commercial AC System Last?
Commercial air conditioning is like residential air conditioning in the sense that it lasts about a decade to fifteen years. Although these air conditioners are responsible for cooling much larger spaces, the way they're built plans for this uptick in capacity needs. The result is a system that lasts just about as long. The best way to make sure that your commercial air conditioning system lasts as long as possible is through annual maintenance and proper repair performed by professionals. 
How Often Does a Commercial AC Unit Need Maintenance?
You should maintain your commercial air conditioning unit once a year. We recommend that you maintain it annually to get the best efficiency and longest lifespan from your air conditioner. Commercial air conditioning maintenance is something that we specialize in. If you want to make sure that you're setting your system up for success while also mitigating your stress as a business owner, then we recommend enrolling in our commercial maintenance program. This will keep you cool for years to come. 
Contact Residential Heating and Air Conditioning to schedule an appointment with our professionals. With us you'll "Feel the Difference." Serving The Twin Cities Since 1991.