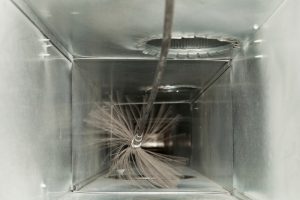 When it comes to keeping your home pristine, healthy, and in top working order, it's beneficial to pay closer attention to your ducts. Your ducts are the highway that your air conditioning takes to get to all the rooms in your home to cool you. Without proper ductwork, you're going to notice that it's much harder to get cool with ease. This is a headache you don't want. 
If you're looking for simple ways to improve your efficiency and make your life much easier, then we suggest getting yourself duct cleaning in Brooklyn Park, MN. We know that this might comes as a surprise to many. We meet far too many homeowners who don't even realize they should be cleaning their home's ducts on a regular basis. We want to do our part by rectifying this today with the right information. Here is everything you need to know about your home's ductwork. 
How Often Do I Need Duct Cleaning?
In our professional opinion, you should have your home's ductwork cleaned by a professional once every one to three years. Trying to determine whether you're going to land closer to the once-a-year frequency or closer to the every three years frequency depends on a variety of factors. Here are a few that our professionals consider:
The size of the home
Number of people living in the home

Recent construction

Recent infestation

Insulation in home

How often the HVAC system is used
All of these different factors add up. If you're trying to determine whether or not it's time to invest in duct cleaning for certain, we always recommend speaking directly with one of our professionals. We're always here to provide you with high-quality work, but we can also advise you too. We want to make sure that you're getting the best professional opinion to set you up for success. 
Benefits of Duct Cleaning
Here are the best benefits of duct cleaning.
Improved HVAC Efficiency
When you clear the pathway for all your conditioned air to travel through, it's going to get to you faster and with more ease. This means that you're going to get high-quality heating and cooling throughout the year, waste less energy, and spend less money in the process. 
Clean Air
Kiss dust mites, dirt, and bacteria goodbye. A good duct cleaning from a professional gets rid of all the problems that might hide in your ductwork.
A Long-Lasting HVAC Unit
When your HVAC system runs into less trouble along the way of its operation, you're going to improve the efficiency of your HVAC unit and likely increase the lifespan of this unit as well.  
Is a Ductless System Better?
This is a tricky question. A ductless system being better is solely going to depend on the needs of your specific home. If you've noticed that you're running into problems time and time again with your ductwork and no amount of repair or upkeep seeks to make a difference then, yes, a ductless system might be better for you.
In most circumstances, ductwork is fine as long as it's properly maintained. We'll help you make sure that your system is pristine and ready to run.
Contact Residential Heating and Air Conditioning today to schedule an appointment with our professionals. With us you'll "Feel the Difference."