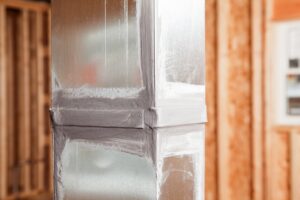 If there's one thing you should know, it's that cleaning your ducts is incredibly important. It's the easiest way to improve the overall quality of your home with one job. If you're trying to clean up your home's indoor air quality and up your HVAC performance, then we suggest investing in duct cleaning in Bloomington, MN.
Duct cleaning isn't something that you should just rely on any person for. Instead, we suggest relying on professionals like ours. We're the only ones who are able to get it the first time because of our expertise and experience. Let's go through everything you should know about your home duct cleaning services below…
How Often Do I Need My Ducts Cleaned?
The most common question we get regarding a home's ductwork is how often someone should clean their ductwork. The general rule of thumb is that you should clean your home's ductwork about every 1-3 years. Where your frequency is going to fall within those 1 to 3 years entirely depends on the specific needs of your home. We can figure out exactly what you need through an assessment. This is why it's important to have professionals like ours come out to your home to assess the needs firsthand. 
What Are the Benefits of Duct Cleaning?
Here are a few of the benefits of cleaning your home's ducts.
Better IAQ

: If you want to improve your home's overall indoor air quality, you should start with your home's ductwork rather than an indoor air quality system. There's no point in beefing up your home's indoor air quality if your ducts won't even be able to distribute it. This is why having clean ductwork is so important to your home's overall health. 

Better Heating and Cooling

: The ducts are the passageway for all the conditioned air in your home. If they're not perfectly fit to your home's needs, you're going to lose out on energy. This is why it's important to have great ducts. 

Long-Lasting Equipment

: When you get yourself a new heater or air conditioner, you're expecting it to last about 10-15 years. The trick to getting your system to last this long and perform well the majority of the time is great ductwork. Clean, sound ductwork gives your HVAC system the best chance to perform well. 
How Do I Know If My Ducts Are Leaking
When you're talking about efficiency and your home's ductwork, you're going to hear the term "leaking" quite often. We're here to define this for you today. We understand that many people don't realize what this means because it's not the same thing as a plumbing leak. Leaking ductwork means that your home's ducts are gapping or broken somewhere. If you've had your home's ductwork for a while, it's possible for it to wear down with time. If this is the case, then it might have developed gaps. This is when you should consult a professional for repair. We're the team who can help you.
Contact Residential Heating and Air Conditioning for your duct cleaning needs. You'll "Feel the Difference."