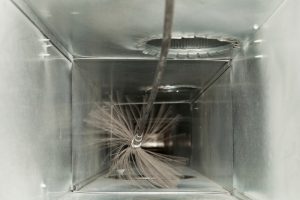 We trust that you prepared your air conditioner for summer with a little maintenance. You probably went the extra mile to switch out your home's air conditioning filter too. During any other year, this would have been everything that you needed to have a cool summer. This year though… something still seems to be missing. What could it be?
When things are off with your air conditioner but there's nothing ostensibly wrong, you're going to need to schedule an appointment for your indoor air quality. Specifically, we'd like to suggest a duct cleaning in Maple Grove, MN. We're here to help you out this summer.
How It Works
You don't always know what's lurking in your ductwork—that's really the problem. You can be having issues like poor indoor air quality, low-quality cooling, and various other home problems and not even realize they all stem from bad ductwork. You need great ducts. They need to be clean too. That's where we come in.
You can't clean your ducts on your own. You're going to need a professional to dig down deep inside of your system and remove all the build-up that's in there. There's a lot floating around in your home and a good majority of it ends up sitting in your ductwork. If you've never had your ducts cleaned before, then you're living with a considerable amount of dust, mites, grime, dead skin, and other debris in your AC system. We're the only ones who can get it out for you without disrupting your air conditioning vents in the process.
Why You Need One
Here are a few reasons why you should invest in a duct cleaning this summer.
Set Your AC Up For Success
You want to make sure that you're setting your air conditioning system up for success. Cleaning out your ductwork system means that your vents will be primed and ready to work for you. When you force your air conditioner to blow past pounds of debris just to cool off your home, you're going to lose out on cooling power in the process. You're going to hurt your air conditioner in the process too. Making your air conditioner work harder unnecessarily means that you're going to wear down your AC's expensive components.
Lower Your Energy Bills
Duct cleaning helps clear the pathway for your air conditioner to function. This means that your air conditioner won't have to strain to function. As a result of this, you'll have efficient cooling power. Efficient cooling is always cost-effective cooling too.
Help Your HVAC System Last
Your air conditioner can last about 10-15 years, but it's not going to last this long without the right service. When people think of helping out their AC, they typically think of air conditioning maintenance. While this is an essential service that you shouldn't miss out on, you don't want to neglect your indoor air quality either. Your ducts really matter.
Contact Residential Heating and Air Conditioning today to schedule an appointment with our professionals for duct services.