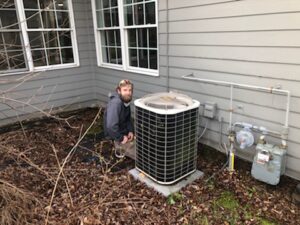 Today, we'd like to address some of the weird sounds that you might have noticed coming from your air conditioner. Most summers, you're accustomed to the low hum that your air conditioner makes when it's powered on. In fact, it's likely welcomed background noise—it indicates that relief is on its way!
This summer though, your air conditioner seems to have found its voice. It's making various noises that you've never heard before. If you're starting to get concerned, then it means it's time to call us about your air conditioning in Minneapolis, MN. We're available to help you with everything that you need.
What's That Sound?
Here is what that air conditioning noise that you're hearing might mean:
Clicking
Have you noticed that you're hearing clicking when your electrical components start up or turn off? The sound of clicking during start up or shut down is normal. This is just the sound of your system starting or stopping.
The trouble arises when you notice clicking happening all the time from your air conditioning system. When you notice this problem, we want you to handle it as soon as possible. Make sure that you're consulting with a professional when it counts. Clicking isn't something that you should ignore.
Banging
Banging, rattling, or knocking are all sounds that typically indicate a loose part. Your part is probably still attached at some point and attempting to perform. That's where the knocking sound comes in. Make sure you note this and get in touch with a professional as soon as possible so that you don't further damage your system.
Squealing
Your air conditioner is squealing and squeaking. It's disruptive and you're having trouble getting your system to perform. What you're more than likely hearing is the sound of your air conditioner's belt wearing down. If you hear this sound, we want you to address the problem sooner than later. The belt wearing down is really going to affect this system and ruin it over time.
Bubbling
Bubbling is a sound that you might start to notice when your air conditioner turns on. If you're hearing this, then you either have an issue with drain line and refrigerant. It's a bad idea for you to try to "top off" or "refill" your refrigerant. We see homeowners travel down this bad road time and time again. It's only going to lead to recurring issues. Refrigerant loss means that you have a leak—don't let anyone convince you of something else.
Buzzing
Buzzing is one of those noises that could have several different potential causes. If you're hearing buzzing, you might be experiencing:
Loose fan blades that are knocking things out of balance.
Your blower starting to go bad.
You're experiencing a refrigerant leak.
You have loose parts.
There's debris in your indoor unit or your outdoor unit.
Make sure that you note any sound you're hearing and handle it as soon as possible. We want to help you find everything you need from our team members.
Contact Residential Heating and Air Conditioning and "Feel the Difference." We're committed to getting to quality service.