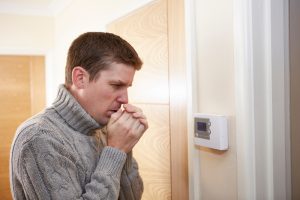 The cold weather is here, you're trying to get cozy at home, and your heater has started to leak… what's going on here? We know that this is one of the last things that you want to happen during your winter season. When you run into trouble, the best thing to do is get in touch with a team of professionals like ours. We're proactive and we can help stop whatever problem you're facing. 
This is the time of year where you should schedule furnace repairs in Chanhassen, MN. Our professionals can get our to your home as soon as possible to help you get your furnace in working order again. Before we do this, we'd like to backtrack to help you determine what's going on and why it might have occurred. Let's take a deep dive below. 
The Basics of Your Furnace: How It Works
Before we get into why your furnace might be leaking, we want to take a brief moment to backtrack. We like to give a quick refresher course on how these systems work because it typically helps individuals understand how this problem can occur.
Your furnace is triggered by the internal temperature of your home dipping below the set thermostat temperature. From here, the furnace turns on and begins the heating cycle. This is where the combustion cycle takes place. The combustion process warms up the heat exchange where the flue gasses inside the heat exchanger are released through the exhaust pipe. From here, the warmed air is forced through your home's vents to you. This is when you get warm. 
Why Your Furnace Might Leak Water
Now, let's talk about a few reasons why your furnace might be leaking. The most common reason that your furnace might be leaking is due to a condensate drain leak. When your heater produces heat, there is a subsequent process of condensation that occurs here as well. The excess condensation is carried away through the condensate drain line. If your drain line is clogged then it can cause your condensate drain to back up and subsequently leak. Don't think that just because this liquid seems to be water that it's okay. Water can cause damage on its own and it's disruptive to your heating process. We can help you work through this. 
How Our Professionals Can Help
The last step after understanding the inner workings of your furnace and how a leak might have occurred is addressing your issue. We encourage you to address this problem with professional service. Professional service is always what you need to go for because it's what's going to ensure that you have high-quality, long-lasting care. Yes, it's easy for you to get care from an amateur handyperson or even try a DIY attempt. These services aren't ones we recommend because they can't ensure that you have long-lasting service. Our professionals are backed by experience and training. We can help you with what you need. 
Contact Residential Heating and Air Conditioning for your furnace services this fall and winter. You'll "Feel the Difference" with us.